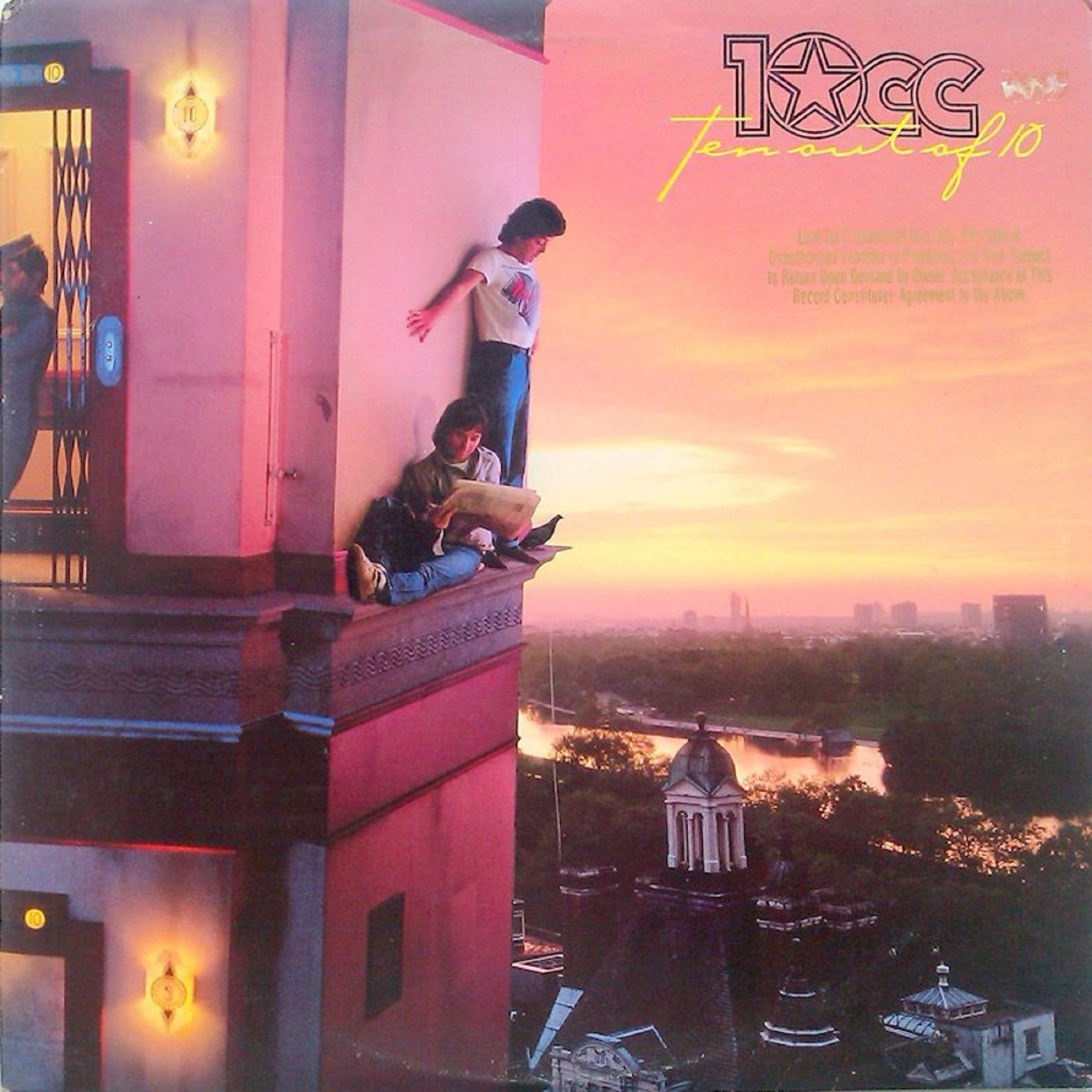 Fedde posted: September 13, 2014, 5:18 PM
After some delay in the distribution yesterday I finally got this album. The seventeen songs somewhat invalidate the title, but with the 7 bonus tracks we can only be happy.
The European and American versions have now been merged here, as was the case with the rare Japanese press from 2006. I paid less than 13 euros now, which is about 10% of the price you paid until recently for an (almost) new copy.
Ten Out Of 10 is an album that comes mainly from Graham Gouldman, as the successor Windows In The Jungle mainly became a Stewart album. After the disappointing Look Hear? from 1980 it became clear that the chemistry between Gouldman and Stewart had disappeared. Eric Stewart was still struggling with health problems after his serious accident a year earlier and Gouldman, already the most driven 10cc man at the time, needed a 'buddy' to find inspiration. In the US he found it in songwriter Andrew Gold. The two were able to get along well together and some beautiful songs were the result. Graham Gouldman dedicated his last solo album from 2012, Love and Work, to the then-deceased Andrew Gold and the lyrics show how good the friendship was between the two song writers.
For reasons that are unclear to me (legal, commercial or personal), a version of the album was released in Europe without the contributions of Andrew Gold. The Gold numbers were used for the American version, with the omission of some Gouldman-Stewart contributions.
So two versions of this album, which was only available on CD for a short time in 1983 and '91 and only now in the affordable affordable combined version of Universal, for which there is homage! Sound quality: Top!
Play time: 73 minutes.
For those who think that 10cc ends with the departure of Godley and Creme in '76, this album is probably a salt-free thing. Maybe nice songs, but not much of a way. That is also true. But the beautiful songs that are featured here and the sublime production should certainly receive more attention. No avant-garde, but craftsmanship. Gouldman and Gold were at their best here.
Allmusic.com notes: "Quite possibly the last great 10cc album, and certainly the last to sound like a true collaborative effort between Stewart and Gouldman."
With Eric Stewart it didn't go really well anymore, but from him we have the nice Windows In The Jungle, on which Stewart clearly has more to crumble in milk than Gouldman. An album that now looks a bit more dated to me. That album is now also for sale again.
Good 10cc album with some pop jewels like "Memories", "Don't Ask" "We've Heard It All Before" (on the American version) and "Notell Hotel".
As Allmusic once said:
After the success of Bloody Tourists, and the artsy excess of Look Hear?, Eric Stewart and Graham Gouldman gave the rest of the band their walking papers, and recorded this album as a duo. Sounding fresh and energized, this was by far 10cc's best album since 1977's Deceptive Bends. Maintaining a mild case of the quirkiness of old, Stewart and Gouldman embrace some of their finest melodies on this release, allowing the songs to speak for themselves. "Don't Ask" is one of those great little pop songs that you think you've heard somewhere before, but haven't, and it should have been a massive single, but wasn't. "Memories," "Les Nouveaux Riches," and "Overdraft In Overdrive" all utilize a reggae backbeat, but are even more carefree than their 1978 single "Dreadlock Holiday!" Both members share the spotlight throughout, trading off lead and backing vocals with ease. Gouldman's vocals sound more confident than ever, while Stewart still sings like an angel (he'll melt your heart on "Don't Turn Me Away," and "Lying Here With You"). The only weak track in the bunch is the barroom blues track, "Listen With Your Eyes," which was probably written in their sleep. The U.K. and U.S. versions of the albums differ by a few tracks (the U.S. version replaces three songs with tracks recorded with Andrew Gold). Quite possibly the last great 10cc album, and certainly the last to sound like a true collaborative effort between Stewart and Gouldman.

0andré posted: March 14, 2006, 9:10 PM
Nevertheless, this is (I think) the least successful album. The other - older - albums usually had 1 or 2 big hits, which I cannot discover on this album ...
avatar from bikkel2
3.0
0bikkel2 Posted: April 12, 2009, 10:46 PM
An improvement on Look Her from a year before.
Well-groomed pop but Messrs Steward and Gouldman will sound more and more mature.
Yet they are at times in shape on songs like Don''t Ask, Overdraft In Overdrive, Notell Hotel and Survivor.
No real classics, but solid pop songs that are well put together.
As a whole, however, it is not enough to captivate as an entire album.
Graham Gouldman in particular seems to be the driver and after his serious car accident Eric Steward is harder to come up with really fascinating songs.
avatar of Stekelnootje
4.0
0Spiny nut Posted: March 19, 2010, 10:34 AM
Not too striking a record but there are really a few very nice tracks on it. For me, Don't turn me away and Lying here with you are the toppers. The rest is certainly worth listening to, nice lyrics too, but the honesty tells me that they are not of the level of their albums in the mid-seventies.
avatar from gaucho
3.5
0gaucho Posted: October 24, 2013, 7:13 PM
I agree with all the above messages. A nice album with decent to good songs, but still a bit flat in their work from the seventies. But certainly an improvement compared to the previous album Look hear, because that really was unavoidable.
Compared to previous records, a few things have changed here: the band from Bloody Tourists and Look hear has been sent home and here Stewart and Gouldman are more than ever dependent on themselves. Gouldman pulls the cart; Eric Stewart is apparently not yet fully aware of the consequences of his car accident from about a year earlier, because his compositional contribution lags behind that of Graham Gouldman.
Of course they also have to do without the creative craziness of Godley & Creme, although this was already the fourth studio album after saying goodbye to this duo. Yet that does touch the core of 10cc as a duo: it is well done and flawlessly executed, but all just a bit too ordinary. All of them are beautiful songs, which are also produced in a remarkably clear way, but real outliers - let alone hit singles - are not on it.
And yet I would like to have this one on CD. For a reasonable price then, because if I understood correctly, there was sometimes a West-German CD pressing in the early days of the medium, in the eighties, but that was soon to expire. And in 2006 there has been a Japanese re-issue, but it is also no longer available and has to raise capital today, I believe.
It has to be said: that Japanese CD contains 7 (!) Bonus tracks. They come from the American edition of this album, which apparently featured four or five other songs and 1 or 2 songs in a different mix. Moreover, that American edition formed the basis for the collaboration with Andrew Gold, who co-wrote a good number of those American songs. Later that led to the founding of Wax, where Gold and Gouldman demonstrated that both men knew how to write a good, commercial pop song.
In short, a good album, but certainly not their best. But it also does not deserve the neglect that the album is currently receiving on CD. It is high time for a decent and affordable re-release. Until then I will do it with the LP.
2.0
0Neal Peart Posted: October 24, 2013, 10:01 PM
Iv.m. their older TOP (!) work this is a flutalbum. Tsjonge put on HOW DARE YOU or THE ORIGINAL SOUNDTRACK and you will hear the difference. Just a weak album
0Fedde Posted: October 25, 2013, 11:41 am
Not entirely fair to always compare the albums from before the split-up with the later albums from 10CC. Also on Deceptive Bends, Bloody Tourists, Windows in the Jungle and this album is still a lot to enjoy. Creatively a step back, but Messrs Gouldman and Stewart are still able to make beautiful pop songs. Don't turn me away for example. A beautiful song.
I'm also looking forward to a re-release on CD!
avatar from bikkel2
3.0
0bikkel2 Posted: October 25, 2013, 2:27 PM
That comparison is not true either. But you hear very clearly that the downward spiral is being used. Deceptive Bends and Bloody Tourist have strong moments, I actually think of Windows In The Jungle, which I think is better than this.
Stewart and Gouldman are still skilled writers and performers here, but the lifeless thing Neil Peart describes is not entirely untrue.
devel-hunt's avatar
2.5
0devel-hunt Posted: October 25, 2013, 3:13 PM
Fedde wrote :
Not entirely fair to always compare the albums from before the split-up with the later albums from 10CC.
Why isn't that fair? In fact, it is the same band with the same name. In the name, there is the pain. 10CC had better after the phenomenal How dare you? can be lifted.
Then Stewart and Gouldman could have formed a new band and records as a Bloody tourist
or Ten out of 10. If a constant comparison with 10CC had been made, it would indeed not have been fair.
0Fedde Posted: October 25, 2013, 3:48 PM
You actually say it yourself: it became a different band after the departure of Godley and Creme. You could talk about that 10CC for a long time, they were right in legal terms, but my point is that this 10CC also made some very nice albums, not to mention the excellent live album from '77.
By the way, the genius of the early band was not entirely due to Godley and Creme, who, after their opportunistic departure, also didn't really make much impression with their projects. The magic was mainly in the foursome; four contrasting personalities who could do something great together. It is not without reason that How Dare You! been in my Top 10 for a while.
avatar from bikkel2
3.0
0bikkel2 Posted: October 25, 2013, 3:59 PM
The four of them were absolutely true at best. To this day, Gouldman also deplores the departure of G&C, because he knows very well that things will decrease after that.
The strong point of the albums up to and including How Dare You is the variety.
Godley & Creme for the experiment and on the other hand Stewart and Gouldman for the mainstream. That combination was successful and kept things in balance.
That fell away individually and both camps never again reached that level.
devel-hunt's avatar
2.5
0devel-hunt Posted: October 25, 2013, 5:02 PM
Fedde wrote :
By the way, the genius of the early band was not entirely due to Godley and Creme, who, after their opportunistic departure, also didn't really make much impression with their projects.
I completely agree. After saying goodbye to 10CC, Godley & Creme also hardly produced any records that at least equaled the work of 10CC.
Both 10CC without G & C and G & C solo both had a commercial recovery in the late 70s. An Englishman in New York and Dreadlock Holiday. Both good numbers.
Nice that all four members were just as familiar. That almost never happens.
avatar from bikkel2
3.0
0bikkel2 Posted: October 25, 2013 at 5:27 PM
Godley & Creme just kept doing their thing. Difficult albums, but mostly with a catchy single (An Englishman indeed, Under Your Thumb, Cry, A Little Piece Of Heaven.)
After Bloody Tourist, Stewart had a serious car accident. His recovery was quick, but according to Gouldman, the collaboration became stiffer. He came out like a different person.
Oh well, this album is definitely not a drama. It listens nicely, but it is all less sparkling and adventurous. Silly.
avatar from gaucho
3.5
0gaucho Posted: July 31, 2014, 5:26 PM
Fedde wrote :
I'm also looking forward to a re-release on CD!
He seems to be coming! Universal will re-release the album in less than a month, this time in a very affordable, mid-price CD version. I can already see it on different sites of providers. And apparently also with the bonus tracks that were on the expensive Japanese version. The same applies to Windows in the jungle.
I have to say that I am very happy with this news. Because although those two albums were certainly not the best work, they are, in my opinion, the nicest and certainly belong to complete the collection. I didn't think they were worth the (high) price that was asked on eBay for the expensive Japanese edition, but as a standard midprice CD I will definitely buy them.
0Fedde Posted: July 31, 2014, 5:45 PM
gaucho That's good news !!. Because the album was hard to find. I also see Windows in the Jungle being released. I'm happy with that too. It has been said many times: not the very best period of 10CC, but these two are worth listening to!
What I have remembered / understood is that the group initially had just the ten songs that we know from the English / European version. But the American record company found that album not strong enough to be released there. Only then did Andrew Gold come into the picture, after which four songs that resulted from the collaboration between Gouldman and Gold ended up on the American album. Instead of the last 4 tracks on the original album.
The 'American' songs sound a bit different in terms of production, a bit more spicy. I also think that two songs from the original album were remixed for the American market.
Of course, the fruitful collaboration between Gouldman and Gold later in the 1980s led to the founding of Wax, and the hits Right between the eyes and Bridge to your heart.
avatar from bikkel2
3.0
0bikkel2 posted: September 14, 2014, 2:45 PM
Interesting. I did not know that Andrew Gold was already in the picture at the time of this album. And that Gouldman already worked with him. Useful fact.
Furthermore, not so much the need to score the new version.
I just don't think it's such a good album. Nowadays when I take a 10CC CD from the rack, it is 9 out of 10 times an album with G&C still in the ranks.
That's where the magic is for me. I don't have much time for the later work.
I understand that Windows In The Jungle has also been dealt with.
That is the most coherent image of the later albums.
Fresher songs, of which I am 24 hours and Taxi Taxi !!! very successful.
0Fedde posted: September 14, 2014, 7:15 PM
I was very pleased with it, much better than in my memory. I find strong numbers:
Don't ask; Don't Turn Me Away; Lying Here With You; Survivor and with the bonus tracks: The Power Of Love; We've Heard It All Before and Run Away
There are also weak, unnecessary and clearly dated numbers: Memories; Action Man In Motown Suit and the rocker Tomorrow's World Today. With humor it didn't work very well anymore. But, as said, it all sounds very good when it comes to production.
erwinz's avatar
0erwinz posted: January 22, 2015, 8:52 PM
Also better than in my memory:
The currants from the pop: 10cc - 10 Out Of 10 / Windows In The Jungle, 2014 reissues - dekrentenuitdepop.blogspot.nl
musician avatar
3.5
0musician Posted: September 2, 2016, 9:19 PM
In the past, of course, Eric Stewart was an undisputed eye-catcher. The Wall Street Shuffle, I'm not in love, Dreadlock holiday.
Later I got more appreciation for the somewhat woody operating Graham Gouldman who, presumably, is ultimately the best of the four old 10cc members in songwriting. He had already had a career in that capacity when he started at 10cc, with songs like Busstop from the Hollies and No milk today from Herman's hermits.
As so often, a one-time ballad classic is a blessing and a curse. I'm not in love was a good song but different from the actual 10cc sound. Just as good as If you leave me now from Chicago. From that moment on, suddenly less is used to the original sound, but to the design of the successful ballad classic. Stewart never got rid of the I'm not in love image again. Well, one more time it worked. With the reggae-like sounds of the Dreadlock holiday three years later.
This album is also characterized by these two things, soft rock and reggae-like music by white, original rockers and then with a lot of water. Far away from the original band sound, which they had started 11 years earlier.
Again, it is not unpleasant to listen to and the sound quality is not a problem. The voices of Stewart and Gouldman are also excellent. But it all lacks quite a bit of venom and creativity.
hiker avatar
4.0
0Walker Posted: September 13, 2017, 12:00 PM
Nicely produced album with the beautiful Don't Turn me Away by Eric Stewart. A separate version of the album was released in the US with the collaboration of Andrew Gold. Gold was asked to be part of the band, but contractual obligations and fear of flying prevented him. Of the songs with Gold, especially We've Heard It All Before and The Power of Love are worth the effort. The reggae rhythms, a legacy of single-success Dreadlock Holiday (1978), are striking.
This album, released in two versions, was not very successful.